Welcome to our guide to online Master's in Machine Learning degree programs. First, we explore nine of the country's best schools offering online ML degrees. You'll learn about each school's work in machine learning, the academic programs they offer, and what makes them unique. Next, we discuss what to look for in a program and how to find the best option for your needs. Finally, we list every online machine learning graduate degree that we could find.

9 Great Schools with Online Master's in Machine Learning Programs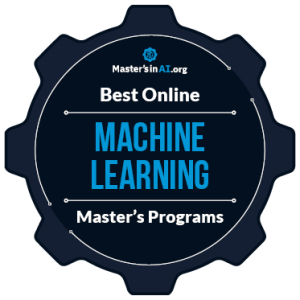 Methodology
Our goal in ranking schools with online Master's in Machine Learning programs is to simplify your research by highlighting quality degrees. We consider many factors when evaluating the options, including:
Program Focus: Schools package AI and machine learning programs as standalone degrees, concentrations tied to core subjects like computer science, and more. We only include graduate degree programs with machine learning in the program name or emphasis.
Program Delivery: Online degrees come in many shapes and sizes. Some are 100% online or hybrid, whereas others only offer one or two courses online. We only considered programs that are fully online or hybrid (mostly online).
Academic Reputation and Awards: We considered external recognitions (e.g., US News) and department reputation in fields related to machine learning – computer science, statistics, analytics, and more.
Average Performance: The final step was to review and reward schools that performed well in multiple categories rather than excelling in one area.
This process allowed us to highlight nine great schools with online Master's in Machine Learning programs, but don't take our word for it! This list is a great place to begin your research, but it's important to review all options to find the best program for your goals and interests. Consider what you'll learn, what it takes to get in, and what you can afford.
Types of Machine Learning Graduate Programs Available Online
Two benefits to doing an online Master's in Machine Learning graduate program are 1) the number of currently available options and 2) how much variety you can find! Programs come in all shapes and sizes, so there are multiple options suitable for almost any situation.
For example — some programs require more credits than others to finish, so if you have the time and resources, you can take more. If not, you can select an option requiring fewer credits.
Another variable — the number of allowed electives. Some programs keep things simple with plans that list only required courses; others let you choose a few electives to customize your plan.
Those who don't want Machine Learning as their primary focus can opt to do a Master's in Computer Science, Data Science, or Engineering with a Machine Learning track. Such programs often feature courses comparable to a straightforward ML graduate degree but with greater flexibility to tailor learning to your needs.
While this list focuses on online programs, many schools feature in-person and hybrid options. This can be handy to develop skills that are easier to learn in person.
How to Find the Best Master's in Machine Learning For You
The only downside to having so many choices is that it's hard to decide which online Master's in Machine Learning program is best for you. To help whittle down the options, here's a rundown of extra things to consider:
ML Major or Specialization Track: Do you want to do a standalone Master's in Machine Learning…or an ML specialization track under a different major?
Fully Online or Hybrid: Do you need a program that's 100% online…or is hybrid better for you? If hybrid, are there any obstacles to in-person attendance?
Cost of Attendance: Tuition and associated costs vary considerably. It's critical to stay objective when assessing what you can afford (based on your financial contributions plus funding from other sources. i.e., parents, federal aid grants, scholarships, loans, GI Bill, etc.)
Reputation: Is it necessary for your goals to attend a costly prestigious university…or is a well-ranked, reasonably-priced accredited school enough?
Yes, an Ivy League like Columbia provides boosted name recognition, but will your employer care…or might they be equally impressed by abilities learned from a less expensive school like Georgia Tech?
Online vs. On-Campus: How to Decide
Even though there are several online Master's in Machine Learning programs available, most programs are still taught on campus or via a hybrid method. This fact should be considered during your decision-making process, but how do you factor it in?
If you've only considered 100% online programs up to this point, then think twice. You'll significantly expand your options if you're willing to include on-campus programs in the equation. Think about the feasibility of doing an in-person or hybrid program and weigh the associated pros and cons.
In-State or Out-of-State: Is there a school you're interested in that's within your commute range? If not, would you relocate for a year or so to earn a degree that could change your life?
Learning Efficacy: Is any relevant subject matter learned better in person? Will online options use simulations or practical approaches to match the hands-on learning experiences of in-person courses? Chat with program coordinators, faculty, or alumni to get a feel for what you can expect from learning online through programs you're curious about.
Full or Part-Time: How's your schedule and budget? Can you afford to take off enough time to attend full-time, or do you need the flexibility of a part-time online program? Most online offerings are made with working students in mind, whereas full-time, on-campus programs expect education to be your primary focus. Full-time attendance allows you to finish faster, helping you land a promotion or better-paying job months or even years sooner.
Full List of Schools with Online Master's in Machine Learning Programs
Find More Machine Learning Programs