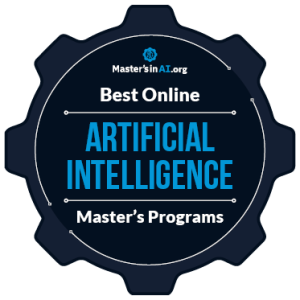 Artificial Intelligence (AI) has already revolutionized many aspects of our daily lives, though most people have little understanding of what it is and how it works. As an offshoot of the field of computer science, AI is highly complex and constantly evolving, which is why employers need qualified experts who've completed graduate-level coursework in AI and related topics. This guide will help interested students looking for flexible, online Master's in Artificial Intelligence degree programs.
Online Master's in AI Rankings Methodology
To create our rankings of the Best Online Master's Programs in Artificial Intelligence, the team here at MastersinAI.org came up with a weighted algorithm. We wanted to create a top 15 list that reflected real-world concerns. So we considered the following aspects:
Quality: Schools with strong U.S. News & World Report rankings in AI, Computer Science, Engineering, and Statistics received an algorithmic boost.
Cost: We compared the total program price to all other online AI programs and gave each school an individual affordability ranking.
Results: We evaluated student completion data to see if the program delivered on its promises of graduating AI students. Any school with strong completions data merited a boost.
For the final ranking order, we combined all of these criteria. That means schools that achieved solid placements across all three categories ranked higher than schools that did well in just one area (e.g. affordability). In addition, all schools had to offer online master's degrees that focused primarily on AI.
Use our list as a starting point. You may find a school ranked #10 is more applicable to your career goals & budget than a school at #1. But rest assured that all of them are dedicated to training AI experts in a format that's accessible and workplace-friendly.
Best Online Master's in Artificial Intelligence Degree Programs
Discover 15 top-tier schools with Online Master's in Artificial Intelligence degrees! We scoured the country to find accredited online graduate programs that are devoted to AI. Each offering is unique. Some degrees are highly technical. Others are business-focused. Some are suited to career-changers. Others are designed for working engineers. Use our rankings to find a virtual program that fits your needs.
What Are Online Master's in Artificial Intelligence Degrees?
AI refers to the ability of "smart" machines, including computers and devices, to do tasks that previously required human thinking skills. Your phone's smart assistant is an example of this technology, which is being applied to virtually every sector imaginable.
Skilled AI workers are in high demand, but to qualify for a great career in the AI field, it's important to hold substantial credentials. The most important credential is a Master's in Artificial Intelligence, a major that is very conducive to distance learning. That's why online AI degree programs have become such popular educational options.
Program curriculums will cover an array of AI subject matter, starting with prerequisite courses (statistics, programming, etc.) followed by core coursework (machine learning, algorithms, etc.) and generally a few electives (unmanned vehicles, robotics, etc.). A graduate-level AI degree is highly beneficial for job seekers and can put you ahead of the competition in a crowded job market. Opting to do a Master's in AI online reduces degree completion time and removes barriers to access for those working full-time jobs or who otherwise need the flexibility of an online program.
What Will You Learn?
Master's in AI Curriculum
A solid online Master's in AI program, such as that offered by the Johns Hopkins Whiting School of Engineering, utilizes a solid course plan featuring usually 10 or so classes in total.
To be eligible for most graduate programs, students must first complete foundational prerequisite coursework, such as classes in:
Data Structures
Intro to Probability and Statistics
Intro to Programming
Linear Algebra and Its Applications
Multivariable Calculus and Complex Analysis
These are just examples from the Hopkins program but should give you an idea of what to expect in terms of prerequisites. If a student has not completed sufficient prerequisite work, some programs will still allow provisional enrollment with full admission coming after they finish their prereqs.
Typical Coursework
Mandatory core classes build upon foundational undergraduate coursework and are substantially more challenging, covering advanced topics like:
Algorithms for Data Science
Applied Machine Learning
Artificial Intelligence
Creating AI-Enabled Systems
Foundations of Algorithms
Introduction to Machine Learning
The Hopkins program lists six available core classes options, with students required to take four core classes plus at least six electives. Some programs may require students to take all core classes.
A well-rounded Master's in AI will offer a range of diverse electives for students to study in their areas of interest. Electives may include Cloud Computing, Natural Language Processing, Neural Networks, or Applied Game Theory, to name a few. Every program will offer its own list of electives and state the number required to be taken.
Core Skills You'll Develop
Graduates of an online Master's in AI degree program will develop high-demand skills that are usable in the job market, such as:
Proficiency with relevant programming languages such as Python
Understanding of machine learning and natural language processing
Knowledge of computer vision algorithms
Ability to design and develop creative AI software and systems models
Ability to test software and systems to ensure or improve functioning
Collaborative teamwork skills
Advanced mathematics skills in algebra, calculus, probability, and statistics
Knowledge of AI-related principles of physics, engineering, and robotics
In addition to general skills, students use electives to tailor to their particular path of study and area of specialization.
Admissions Requirements for Online AI Degrees
Each college offering an online Master's in Artificial Intelligence has its own set of admissions requirements. Some schools require hopefuls to apply to the college or university and the graduate school separately.
Here are the general admissions requirements most programs cite:
Must hold a bachelor's degree or be completing the final term of undergraduate work
Must have done undergrad work at an accredited school
Must have a minimum Grade Point Average (GPA), often 3.0 or higher. The GPA requirement may or may not be cumulative; some schools only want to see that the applicant maintained a high GPA during the final terms of their bachelor's program
Official transcripts
On occasion, Graduate Record Examinations (GRE) scores. Online programs generally don't require GRE; however, students might opt to submit anyway, if it helps their application
Additional common application materials:
Applicant's resume or CV
A statement of purpose answering a question prompt or outlining the student's goals during program participation and beyond
Letters of recommendation (often requested from previous teachers or those who can speak to the applicant's work and ability to succeed in a rigorous graduate program)
For international applicants, a TOEFL or IELTS score may be needed
Why Should You Get an Online Master's in Artificial Intelligence?
In one way or another, Artificial Intelligence touches upon almost every aspect of our daily lives. Sometimes AI is obvious, such as when we engage with a website chatbot or use a search engine to pull up millions of results in under a second. Other times, AI is working so far behind the scenes we aren't even aware, such as when it's analyzing our social media behavior or navigating us around via a map app.
The point is, AI has become ubiquitous, a critical field with applications we've come to rely on and take for granted. And yet, the nation faces a domestic AI workforce shortage that could reach critical mass in the coming years if not addressed. It's not an understatement to say that America's future relies on sufficient numbers of qualified AI experts graduating from college and entering the business and governmental sectors where they are vitally needed.
Apart from serving the national good, earning a Master's in AI offers several personal benefits. Chief among these may be the number of high-paying career prospects available for skilled AI workers. A few possible career choices and their related median pay are:
Keep in mind, the above-listed salaries are based on median reported incomes. Actual salaries may vary greatly depending on several variables, including who the employer is, the number of years of experience the worker has, any specialization skills or job requirements, and geographic location.
Job security is another strong reason to consider finishing an online Master's in AI. The long-term outlook for career prospects seems promising, with the Bureau of Labor Statistics citing 22% growth in Computer and Information Research Scientists-related jobs over the coming decade.
How to Choose the Best Online Artificial Intelligence Program For You
There's no shortage of schools offering online Master's in AI degrees, so how do you decide which ones to apply to?
First, it's important to find a reputable school that is accredited at the national or regional level. Keep in mind, just because a college has a stellar reputation doesn't mean its computer science department is up to par. Programmatic accreditation from ABET is a sign that a school's AI program, and the department running it, are top-notch.
Check out faculty bios, too. Read about faculty achievements, awards, and areas of specialty, such as computing, engineering, robotics, etc. An online AI program is only as good as its professors or instructors, so pay attention to who is teaching your online classes. If the catalog doesn't say, reach out to the program and ask.
You'll want a program that speaks to your interests and career goals. Are you more interested in AI or Machine Learning? Do you want to work with robots or autonomous vehicles? Think about your long-term interests and compare them to the curriculum and elective offerings.
Another crucial consideration is — what sort of resources and projects does the program offer? Larger institutions have greater research budgets to work on cutting-edge projects that students may participate in. They also have connections with recruiters looking to snag graduates to work in lucrative-paying jobs.
Naturally, if you're checking out an article about online AI programs, you might not have the time or ability to meet on-campus requirements. However, if you live close to the school's campus and don't mind occasional in-person attendance, consider a hybrid program that fits your schedule.
Lastly, compare costs and make decisions based on how much you can afford or secure funding for through scholarships, grants, loans, or other financial aid sources.
FAQ
What Can You Expect From an Online AI Degree Program?
Students who enroll in an online Master's in AI degree program can expect a rigorous but rewarding experience that will prepare them for great career opportunities with strong long-term outlooks.
As with any college program, students will "get out of it what they put into it," meaning the more you apply yourself, the more knowledge and skills you'll acquire. The goal should be not just to get good grades but to become a subject matter expert ready to enter the job market, qualify for a promotion, or launch an entrepreneurial startup.
How Do Online AI Programs Differ From Their On-Campus Counterparts?
The evolution of online learning programs has enabled students to obtain the same caliber of education through distance learning as they can through in-person attendance, in most cases.
Artificial Intelligence coursework is especially suitable for online learning. However, on-campus classes allow for in-person experiences with teachers and peers that remote learning can not 100% duplicate. Meanwhile, every student has a different learning style, making online programs more feasible for some and less for others.
What Skills Should You Master Before Applying to an Online AI Program?
An online graduate-level AI program requires ample foundational preparation in the form of undergraduate prerequisite courses. Such courses may include topics such as Data Structures, Probability and Statistics, Programming, Linear Algebra, and Multivariable Calculus.
Each program will list its own mandatory prerequisite courses. In addition, practical hands-on experience in coding is very useful.
Online Master's in Artificial Intelligence Degrees List